Our Services
Quarterly Report on Building Costs
Our quarterly Report on Building Costs provides data on trends in builders' input costs (labour, materials, plant and fuel), as measured by the CPAP (Haylett Indices - Work Group 180 and 181) and trends in building tender prices, as measured by the BER Building Cost Index.
For more detail, refer to Subscriptions by clicking here.
CLIBI Index
Compilation of the CLIBI, the MFA Composite Leading Indicator for the South African Building Industry. This unique index is based on quarterly business survey data gathered by the Bureau for Economic Research at the University of Stellenbosch. Included in the composite index are variables such as the business confidence levels of building contractors and sub-contractors, their employment and activity levels, and trends in their profitability. This indicator provides stakeholders with a view of the South African building industry, neatly captured in a nutshell.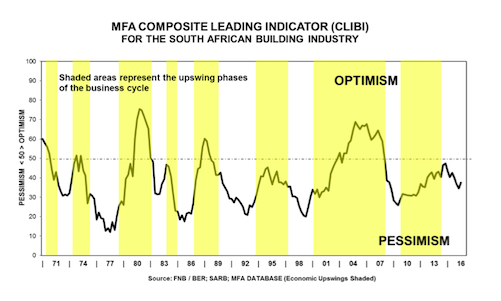 Consulting
Consultancy service focusing on the South African building and construction industry. Our client list includes several building and civil contractors, manufacturers and merchants of construction materials, investment fund managers, together with various industry bodies.
Presentation and Liaison
Presentations to and liaison with several professional and research bodies involved in the South African building and construction industry. Our network includes the Bureau for Economic Research, BMI Building Strategy Consulting Unit, Industry Insight, Master Builders South Africa, Rode and Associates and Viruly Consulting. We also teach by invitation at the Department of Construction Economics and Management at the University of Cape Town.
For more detail, please email Dr Johan Snyman at [email protected]