About MFA
Medium-Term Forecasting Associates (MFA) is an independent economic consultancy specialising in research into building cycles and building costs.
We are BBEEE Level 4 compliant.
We provide a quarterly report on building costs. We also serve a select panel of clients, addressing their specific applied needs. Other research and presentations are available as companies request them.
MFA was established in 1984 to serve the needs of professional quantity surveyors who require forecasts of tender prices for buildings. It has since found that many other construction and property professionals find the MFA Report useful. The founding members are Prof Wilsey Kilian (on right of photo) and Dr Johan Snyman (left on photo). Mr Doug Brook (centre) is the author of the BER Building Cost Index, an analysis of accepted tender prices.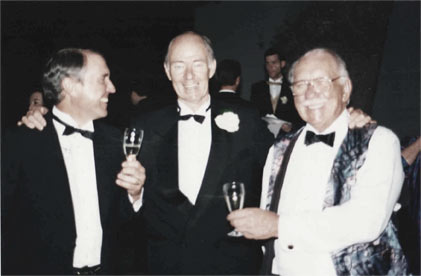 In 2005 MFA and the Bureau for Economic Research (BER) at the University of Stellenbosch formed a joint venture. The BER is responsible for the compilation of the BER Building Cost Index. MFA is responsible for the forecasts and for marketing the BER / MFA Building Costs Information Service. This service provides information on trends in builders' input costs (Haylett Formula) and tender prices (BER Building Cost Index).
Research shows that building costs fluctuate in a somewhat regular pattern. They rise strongly during a building boom because competition in tendering decreases. However, during a building recession when new work is scarce, competition intensifies. Building contractors are then forced to trim their profit margins. Consequently, building tender prices rise less rapidly during recessionary periods. As experience shows, building costs are always on the move.
Therefore, before you can forecast the future course of tender prices, you need to forecast the likely course of the building cycle. This is our modus operandi. The challenge is to know in which stage of the cycle you are and where you will be in the next few years (the medium-term).
For greater detail about our services, please visit the Our Services page.